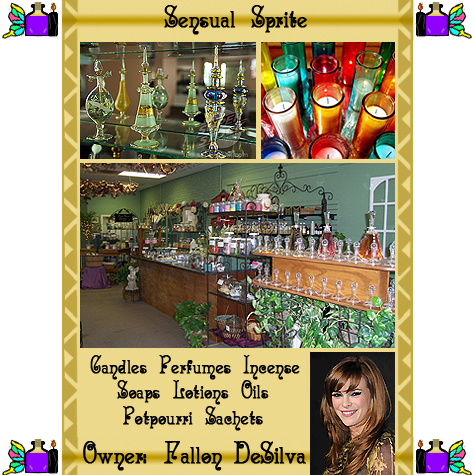 Located at the end of the main road in Hogsmeade, on the path towards the Shrieking Shack, the Sensual Sprite was formerly owned by an elderly which, Clara Eckheart. Going on in years, she hired on Fallon, who was renting the apartment above the shop at the time. After her death, Fallon has taken over as the owner of the shop.
There is a window display that changes with every season or sale, even though popular items are always in stock. Store hours are week day only, 8am until 6pm. Special orders are always welcome.
Entering into the shop, you are greeted with spring green walls, adorned with jars and bottles of candles, soaps, and perfumes, all organized by item, not by scent. Feel free to browse through, and take care of anything picked up or opened. If your nose gets a bit twitchy, there are jars of coffee beans for you to take a whiff of at the top of the shelves to help reset your senses.
Pre-made gift baskets are kept up front, candles are along the back wall. Along the side opposite of the counter is a make-up section, including items charmed not to run when wet. A simple tap of the wand to the face reverses this, to make for easy cleaning.
Any questions, feel free to leave a note (PM) for Fallon if she's not in the shop, and she will return your letter as promptly as possible.
View
Sensual Sprite/Fallon's Flat